OUR STORY
"I don't wear makeup" is something I hear a lot from our customers.
While leading Personalization at IPSY, I had the opportunity of testing over 4,000 beauty products while curating selections for 3 million monthly subscribers and evaluating their feedback.

My biggest takeaway? Most women are drawn towards a natural makeup look, and desire uncomplicated beauty routines.

Yet, the vast array of products and shades makes shopping for beauty overwhelming, even for someone steeped in the industry like myself.

This inspired me to launch Minori–a makeup brand for those who don't ordinarily wear makeup, and seek a natural aesthetic when they do.

Our mission is to reinvigorate the beauty journey for makeup beginners by making the experience user-friendly and welcoming.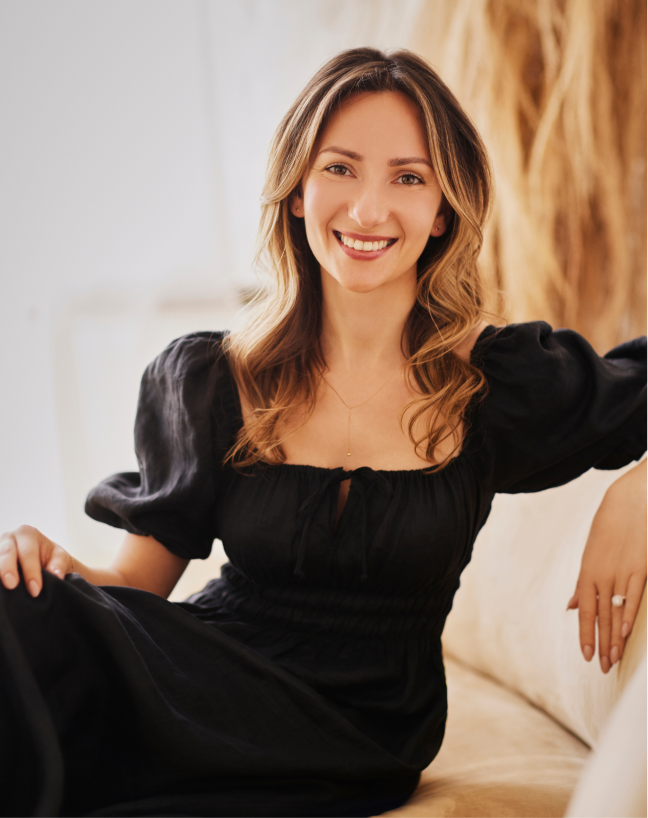 Our Mission
To make the most essential, easy-to-use products while encouraging sustainable and responsible consumption.
Ask us anything
Is Minori clean? What does clean beauty even mean?
Words like "clean" and "natural" aren't regulated, and ingredient lists can be tricky to navigate. At Minori, we want you to feel confident about the ingredients in your beauty products. We worked with our chemists to consciously formulate effective products avoiding over potentially harmful 3000 ingredients such as parabens, phthalates, sulfates, synthetic fragrance and talc. Furthermore, our products are gluten-free, alcohol-free, and nano-partical free, and our mica is always ethically sourced.
Why do you use a mix of natural and synthetic ingredients?
Not all natural ingredients are safe and not all synthetic ingredients are bad. We choose to work with many safe lab made ingredients to help achieve outstanding formula performance, and create long lasting, pigmented makeup that you will reach for every single day.
How are you plastic negative?
Minori is Certified Plastic Negative through our partnership with rePurpose Global. For every product we sell, we are contributing a percentage towards vetted impact programs that will remove ten times as much nature-bound plastic used in our products and operations. Each of our products now carries a beyond Net Zero Plastic Footprint!
rePurpose Global's Impact Projects remove and recover plastic pollution across seven countries and three continents. Our certificate will help fund Project Neela Sapana in Chennai, India. Over the last few decades, the pristine coastlines of Chennai have been devastated by rampant plastic pollution, affecting wildlife and contaminating waterways. 100% of the plastic recovered through this Project is ocean-bound, which means collecting plastic waste in a 100km radius from the coastline that would otherwise have not been collected. Essentially, it is an intervention to divert this plastic safely away from the oceans before it ever has a chance to leak into it.
How to recycle Minori products?
When you finish our cream blush and highlighter, clean the glass jar, and put it in the recycling bin. Then toss the cap into the garbage. Another alternative is to give it a second life by using it as a small container.
Our lip gloss cylinder is currently made out of plastic and cannot be recycled, so please dispose into your garbage.

We are working on making our packaging more sustainable for our future productions. We are exploring including more PCR (post consumer recycled plastic) into the caps of the jars and the lip glosses.

We moved away from offering a recycling take back program ourselves, as the carbon footprint of asking you to mail back empties exceeds the benefit of helping you recycle your plastic empties. Our suggestion is that you bring your empties to a local Nordstrom or Credo which will have a Terracycle or Pact recycling take back box.
Fun facts about us
We are based in San Francisco and our team of 4 is entirely remote.
I was born in Kazakhstan before immigrating to Canada at the age of 5 and am fluent in French, Russian, and English.
I met my husband (and now Minori's co-founder) 12 years ago at our university's library in Montreal.
At home, when not filming aesthetic Tik Toks, you'll find me wearing khaki cargo pants.
Outside of working on Minori, I spend my time meditating, cuddling with my cat, reading, and enjoying all the wonders of San Francisco!